Are you struggling with Buyer clients because there is just not enough inventory out there? Consider a renovation loan to create more possibilities!
Most Realtors in our area are having this same issue.  Qualified buyers are having trouble locking in today's low interest rates because there is just not much to choose from. They are frustrated because they know they are missing a great opportunity.  Renovation loans may provide a solution!
Talk to your buyers and their loan officers about the possibility of using a renovation loan to help them find the home of their dreams.  Homes that are in desirable locations with good bones become real possibilities if you can see past the kitchens and baths that need updating, the roof that needs replacing, or the basement that needs finishing.  Imagine the 'deal breaker' items that could be solved with a little creative thinking.  More homes may become desirable if you look through the lens of the renovated version of a less-than perfect property.

How a 203(k) Loan works
With a renovation loan, a buyer can purchase a home and create a specific plan of what improvements they will finance into their mortgage as part of the purchase.  The improvements will be done by professional contractors immediately after settlement, before moving into the home.  Of course the buyer must qualify for the 'after' price (acquisition price + cost of improvements).  You can adjust the search parameters a bit below their target price to look for those 'handyman special' or 'needs TLC' listings.  See what these homes were missing that they didn't initially catch your buyer's eye.  You can look for listings that are sitting on the market because they don't have upgrades or have no curb appeal.  These listings can be possibilities if your buyer is able to add missing amenities from their wish list.
Factors to Consider for Renovation Loans
The FHA 203(k) loan is the most commonly known rehab loan, but there are some conventional options as well.  There are a few factors to consider related to a 203(k) loan:
Generally, the appraisal fee will be a little higher because the appraiser (HUD Consultant) has to be certified to do the 'after' analysis.  The HUD consultant will be the buyer's main contact regarding the construction.  They will walk through a general plan with your buyer to determine what they plan to do with the home.  This allows them to appraise the home at the projected value based on the home after improvements.
The rate is generally a little bit higher as well, but not as much as it used to be.  At today's historically low rates, a bit higher rate can be well worth it to be able to finance the desired repairs and secure a great home in this market.
The repairs must be done by licensed contractors and must be done within a couple months of closing.  So, buyers don't have to fear never-ending improvements that never get done.  Though this does mean that none of the financed improvements can be done by a handy homeowner.
The HUD consultant will handle communications and payments to the contractors as the work is completed.
You could also use a 'Limited' 203(k) loan if the repairs you plan to finance are less than $35,000.  This will simply the loan process a bit.
Using a renovation loan can be an excellent path for your buyer to find their next happy home!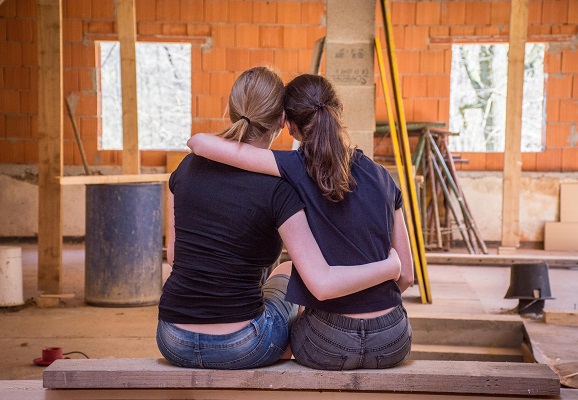 Contact our office for more information on how to proceed with a 203(k) loan.  We're happy to help you connect with one or our great agents who can help you work with a local lender familiar with the 203(k) process.