GCAAR Issued a New Form (and other updates) for February 2020
New GCAAR Form:  'Potential Adverse Consequence Acknowledgement'
In our local market, there are often multiple offers on a home for sale.  Therefore, buyers often look for ways to make their offer look better to Sellers.  Sometimes buyers want to remove contract contingencies, like home inspection or appraisal, in order to make their offer more competitive.  Or they may even want to make an offer on a home without seeing the inside!  As Realtors, you explain why these actions are risky.  But of course, the ultimate decision depends on the Buyer's comfort level and their personal situation. For this reason, GCAAR has issued a new form to help in this type of situation.
With this new GCAAR form, the buyer acknowledges there is risk without these customary protections and precautions.  Certainly, there are circumstances where the buyer does their due diligence and feels comfortable without some protections.  This form merely reinforces the importance of contingencies and the risk of excluding them.  Familiarize yourself with Form 875 to use in these situations.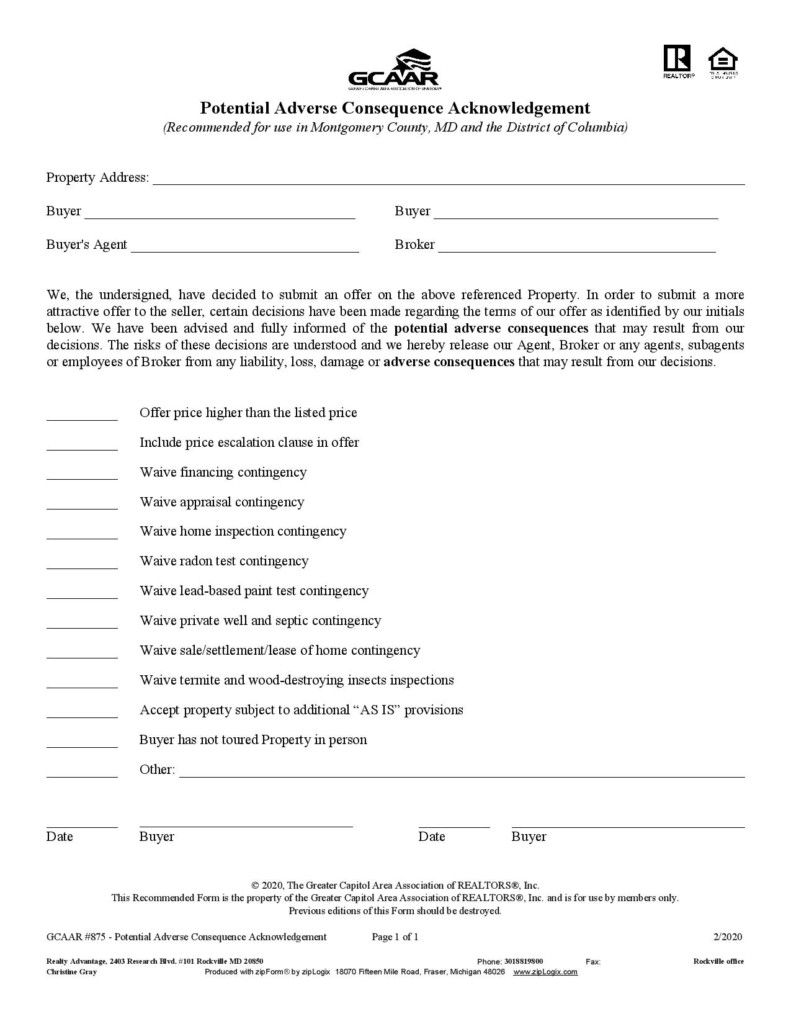 Other February 2020 GCAAR Form updates
In addition, GCAAR made some changes to existing forms.  These updates include:
The Listing Agreement was updated to include the updated Bright MLS Clear Cooperation Policy.
The MoCo Jurisdictional Addendum to the Listing Agreement was updated to reflect that Sellers may not collect audio recording without written consent from all parties.
Several forms were updated to reflect the increase of the non-resident seller withholding tax to 8%.
Other February form updates are mainly administrative.  Click here for Summary of Changes.
Stay up to date on necessary paperwork so that you're able to confidently help your clients with offers and contracts.  If you have questions about these recent form changes, contact GCAAR or one of your Brokers.  We're happy to help!